Publications

Neuro-Urology: Theory and Practice
"This is the first e-book on neuro-urology (also available as printed version), a comprehensive textbook comprising 68 chapters by 89 authors (the majority are INUS members). Order your copy via https://www.springer.com/de/book/9789401775076"
For more information please see this Table of Contents.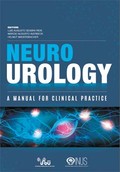 A collaborative work between the Brazilian Society of Urology (SBU) and the International Society of Neurourology (INUS)
The pdf is availaible for members only, please log in and go to the download-section.
SÃO PAULO 2019, 2nd EDITION
EDITORS
LUIS AUGUSTO SEABRA RIOS
MÁRCIO AUGUSTO AVERBECK
HELMUT MADERSBACHER
PAPERS
This is a project financed by INUS with the aim to implement direct electrostimulation of the bladder wall in patients with decentralized bladders. One of the major problems in the past was the electrode design as previous electrodes tended to migrate with consecutive dysfunction of the implanted system. In this animal experiment if could be proven that in the walking animal the newly designed electrodes did not migrate over 4 weeks and remained intact and caused no tissue lesion. This is a step further to the implementation of direct bladder wall stimulation which years ago was already used to induce bladder emptying with remarkable success, however, material problems and infections prevented middle term and long term success.
This paper was published in the Open Access Journal Applied Sciences and can be downloaded here.